Rewards Card promo at Plaza Marcela
As part of its 25th Anniversary, Plaza Marcela gives away thousands-worth of grocery packs and gift certificates to its valued customers through the on-going "Rewards Card" Raffle Promo which runs until April 18, this year.
Five (5) lucky customers will win grocery packs worth P10,000 each, while another ten (10) customers will also get Alturas gift certificates worth P5,000 each. The winners will be announced during the raffle draw on April 19, at 2 PM.
A customer can get one Rewards Card for a minimum single receipt purchase worth P2,000 from the Supermarket. Just present the receipt at the Consumer Welfare Desk and get the Rewards Card.
The Card has six (6) empty slots, and each slot will earn a stamp for every required purchase. There's one bonus stamp for every P300 purchase on participating products, and another bonus stamp if you are an A1 Card member.
Upon completion of the six (6) stamps, the customer will fill-up the Card with complete name, address, contact numbers, and signature; and drop it on the designated dropbox.
A customer can drop as many Cards as he/she can as long as the Card is complete with six (6) stamps. A Card with incomplete stamps is considered invalid.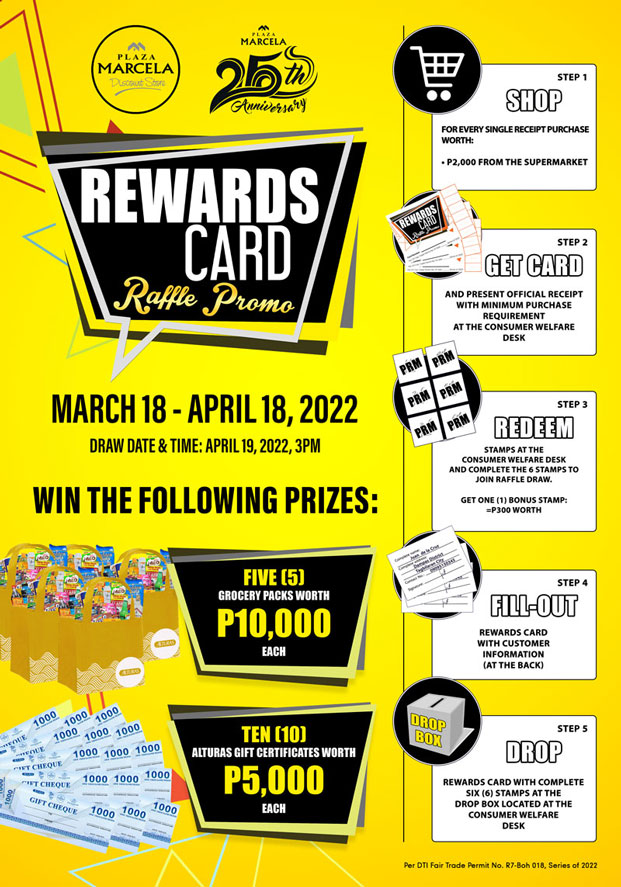 It has been a commitment of the company to maintain good relationship with the community, and shares back what it has to the public it serves.